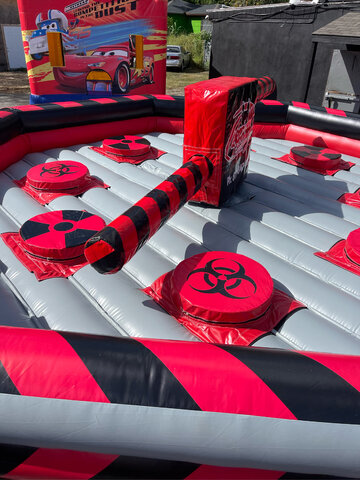 Inflatable # 62 "Total Meltdown"




This item is currently unavailable.

We now have our Toxic Meltdown inflatable! This 8 player action game puts your endurance, speed, agility, technique, reflexes, and reactions to the test. In a game of survival, 8 players will do anything to avoid the two spinning arms, including ducking, dodging, jumping over them, and more. Your gathering will become a skill- and balance-based, adrenaline-fueled party as a result.
More details below:
Total Meltdown
Meltdown inflatable is a kind of wipeout inflatable game, it is a game of jumping and ducking. How to play toxic meltdown inflatable game? It needs at least 2 participants to start the game, each will stand on their own position. There are one or two sweeper arms rotating and sweeping all players. Everyone should really pay attention to those arms and when the arms almost arrive, jump or crouch to avoid be hitting by the sweepers.


The meltdown bounce house is fun and a challenge for both adults and kids. For adults, meltdown is a great group activity and also a competition game. For kids, it helps them focus, be flexible, and activated. It is a versatile inflatable game that fits all occasions, such as parties, carnivals, fairs, church, corporate picnic, etc.