Inflatable # 62 "Total Meltdown"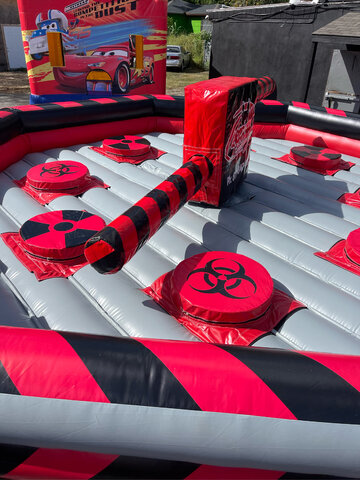 Daily Rates!
| Regular Price | Additional Hours | Multi-Day |
| --- | --- | --- |
| $655.00 | $150.00 per. Hour | No Multi-Day Rentals |
Setup Area: 34 x 34
Actual Size: 26 x 26 ( 8 Players)
Monitors: (1) Grade A Staff Member
Age Group: 7 & Up: Guest must be at least 4 feet tall.
Our Toxic Meltdown inflatable is now available! This action game for 8 players tests your endurance, speed, agility, technique, reflexes, and reactions. In a survival game, eight players will do anything to avoid the two spinning arms, including ducking, dodging, and jumping over them. As a result, your gathering will become a skill- and balance-based, adrenaline-fueled party. It is appropriate for children aged 7 to adult. The price for the Wipeout Game is for up to 2-hours. If your event is shorter than 2 hours, we can accommodate the time difference, but the price will remain the same. If time is available to be extend, you can extend your rental. After the first two hours, it's $150.00 per hour. Toxic Meltdown does require staffing from Grade A Rentals Of Tampa, fee included with cost, which is included in the rental price each hour. Prices will drop to 150.00 per hour after the first two hours.
---
More details below:
Total Meltdown
Meltdown inflatable is a kind of wipeout inflatable game, it is a game of jumping and ducking. How to play toxic meltdown inflatable game? It needs at least 2 participants to start the game, each will stand on their own position. There are one or two sweeper arms rotating and sweeping all players. Everyone should really pay attention to those arms and when the arms almost arrive, jump or crouch to avoid be hitting by the sweepers.


The meltdown bounce house is fun and a challenge for both adults and kids. For adults, meltdown is a great group activity and also a competition game. For kids, it helps them focus, be flexible, and activated. It is a versatile inflatable game that fits all occasions, such as parties, carnivals, fairs, church, corporate picnic, etc.
© Grade A Rentals of Tampa. All rights reserved.