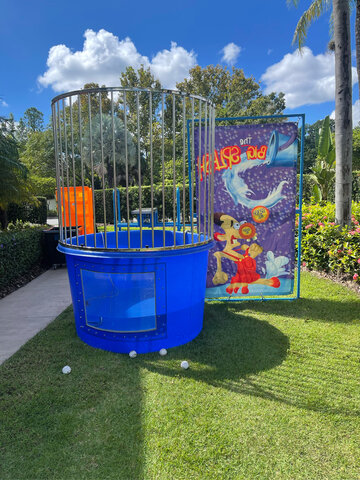 500 Gallon Dunk Tank
Dunk the Principal, douse the boss, or just have fun taking turns with this dunk tank rental. Great for school, work or corporate events, and our equipment is always delivered clean. Splash! What a blast! Dunk tanks are timeless games that everyone enjoys! Easy to move, easy to set up, easy to use!

The Dunk Tank features a target and a see-through window for easy viewing of the dunkee. Guests throw (3) softballs at the target. Each ball that hits the target sends the dunkee splish-splashing into the water.

''DUNK TANKS MUST BE PLACED ON GROUND LEVEL DRIVERS WILL NOT LIFT/CARRY TANK UPSTAIRS"
FAQ:
Do you fill the dunk tank up for us?
Yes, our staff brings a water hose and will fill the dunk tank up before leaving. We will also show you how to reset the seat.
How close does the water source need to be?
We require a water source within 25′ of the dunk tank rental.
Do you provide the water?
No, unfortunately, you must provide the water source and water holes for us to fill the dunk tank.
Do you provide delivery and setup?
Yes, your dunk tank rental will be delivered and set up by our driver.
How long does it take to fill? The dunk tank takes roughly 1hr 30 minutes to fill. This time may be longer depending on the water pressure from your source.
How much room is needed for setup?
The dimensions are 5' D x 12' W x 7' H so you will need ample room for guests to get in and out of the game. Also, plenty of room in front for the throwing line typically 20-25 feet at most for adults and 10-15 feet for kids.

What is the weight limit on the seat?
The weight capacity is 250 pounds for seat that any participant will sit on based on the manufacturer recommendations.
Dunk Tank
Dunk Tanks have long been a carnival favorite for good reason. Children and adults alike enjoy the opportunity to soak their friends, teachers, parents, and bosses for good measure. Players toss balls (included in rental) at the colorful target, and when they hit the bullseye, they are rewarded with a splash! Take note of the dunkee's surprised expression as they fall into the pool of water beneath the bench they are perched on! But don't worry about resentment; on a hot Houston day, these "victims" will be cheering on the players in the hopes of getting some watery relief from the heat. Dunking booth rentals are extremely popular for school functions and fundraisers because they are safe and fun for all participants. Make an impression at your next gathering with this crowd pleaser!