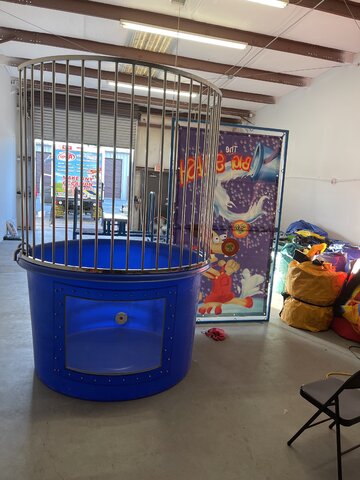 500 Gallon Dunk Tank
Dunk the Principal, douse the boss, or just have fun taking turns with this dunk tank rental. Great for school, work or corporate events, and our equipment is always delivered clean. Splash! What a blast! Dunk tanks are timeless games that everyone enjoys! Easy to move, easy to set up, easy to use!

The Dunk Tank features a target and a see-through window for easy viewing of the dunkee. Guests throw (3) softballs at the target. Each ball that hits the target sends the dunkee splish-splashing into the water.

FAQ:
Do you fill the dunk tank up for us?
Yes, our staff brings a water hose and will fill the dunk tank up before leaving. We will also show you how to reset the seat.
How close does the water source need to be?
We require a water source within 25′ of the dunk tank rental.
Do you provide the water?
No, unfortunately, you must provide the water source for us to fill the dunk tank.
How long does it take to fill?
The dunk tank takes roughly 45 minutes to fill. This time may be longer depending on the water pressure from your source.