Inflatable # 62 "Toxic Meltdown"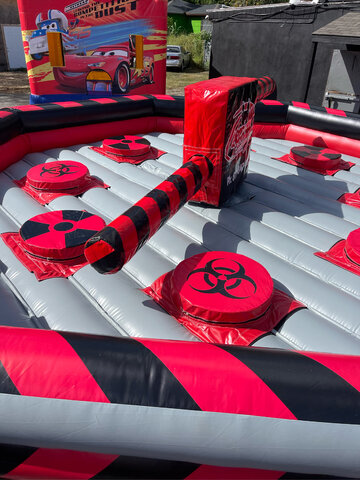 Daily Rates!
| Regular Price | Additional Hours | Multi-Day |
| --- | --- | --- |
| $3,755.00 | $150.00 per. Hour | No Multi-Day Rentals |
Setup Area: 34 x 34
Actual Size: 26 x 26 ( 8 Players)
Monitors: (1) Grade A Staff Member
Age Group: 7 & Up: Guest must be at least 4 feet tall.
Our Toxic Meltdown inflatable is now available! This action game for 8 players tests your endurance, speed, agility, technique, reflexes, and reactions. In a survival game, eight players will do anything to avoid the two spinning arms, including ducking, dodging, and jumping over them. As a result, your gathering will become a skill- and balance-based, adrenaline-fueled party. It is appropriate for children aged 7 to adult. The price for the Wipeout Game is for up to 2-hours. If your event is shorter than 2 hours, we can accommodate the time difference, but the price will remain the same. If time is available to be extend, you can extend your rental. After the first two hours, it's $150.00 per hour. Toxic Meltdown does require staffing from Grade A Rentals Of Tampa, fee included with cost, which is included in the rental price each hour. Prices will drop to 150.00 per hour after the first two hours.
---
More details below:
TOXIC MELTDOWN
Grade A Rentals of Tampa offers an exciting variety of entertainment options, including inflatable games in Tampa. One popular choice is the Toxic Meltdown game rental Tampa, a thrilling action game that guarantees an adrenaline-pumping experience for all participants. With its two spinning boom arms, this 8 player game rental Tampa challenges agility, stamina, and lightning-fast reflexes.
Whether it's an outdoor event, a birthday party, or a school carnival, our interactive game rentals in Tampa guarantee fun-filled activities for social gatherings of all kinds. Create a unique and engaging experience with Grade A Rentals of Tampa, your go-to source for inflatable games and entertainment in Tampa FL.
Perfect for parties, team-building activities, or corporate events, our party rental Tampa services provide engaging family entertainment that will create memorable moments.
See More Games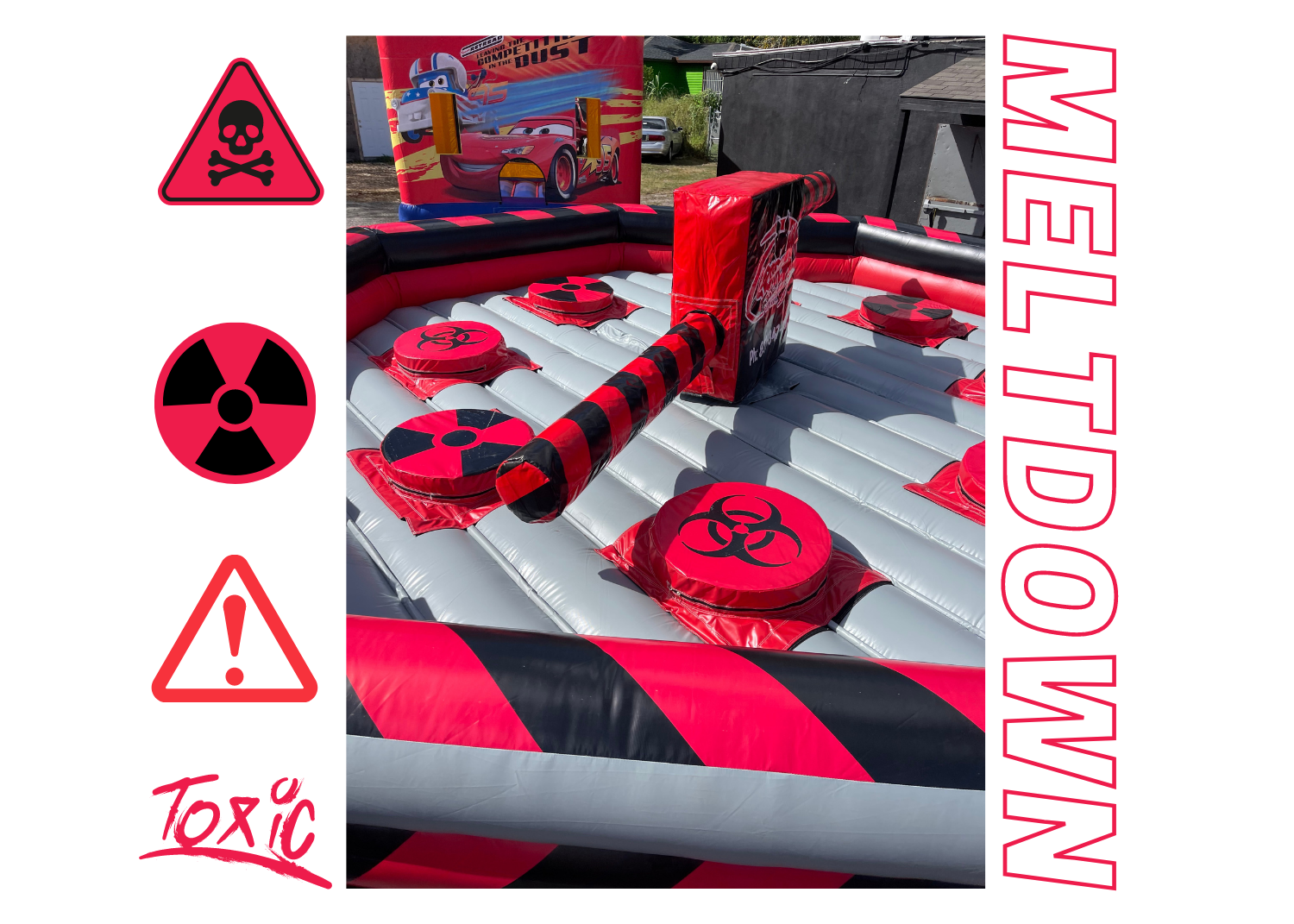 Toxic Meltdown Rental In Tampa
Meltdown inflatable is a kind of wipeout inflatable game, it is a game of jumping and ducking. How to play toxic meltdown inflatable game? It needs at least 2 participants to start the game, each will stand on their own position. There are one or two sweeper arms rotating and sweeping all players. Everyone should really pay attention to those arms and when the arms almost arrive, jump or crouch to avoid be hitting by the sweepers.


The meltdown bounce house is fun and a challenge for both adults and kids. For adults, meltdown is a great group activity and also a competition game. For kids, it helps them focus, be flexible, and activated. It is a versatile inflatable game that fits all occasions, such as parties, carnivals, fairs, church, corporate picnic, etc.
Looking to spice up your next event in Tampa, Florida? Look no further than our inflatable Meltdown 8 Player Action Game, the perfect choice for an adrenaline-pumping, competitive, and engaging team-building activity. Whether it's a corporate event in Hillsborough County, a birthday party in Pinellas County, or a family gathering in Pasco County, our unique party experience will provide high-energy entertainment for all ages. As an entertainment rental company serving Hillsborough County, Pinellas County, and Pasco County, we offer fun games in tampa, interactive entertainment in tampa, and thrilling options that will make your event memorable. From school events in Pasco County, to church gatherings in Hillsborough County, our Meltdown game rental is a fun-filled activity that guarantees a fun and engaging time. Don't miss out on this exciting entertainment option for your next social gathering or fundraising event in Hillsborough, Pinellas, or Pasco County. Book now and enjoy the ultimate active play experience with our unforgettable party game in Tampa, Florida!