Bounce House, 2 Tables, 12 Chairs & Popcorn Machine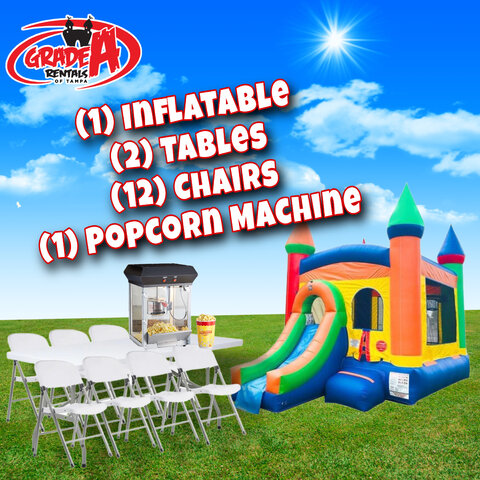 Upgrades to get a banner bounce house or any other bounce house are not permitted for specials and package deals.
Get ready to throw the ultimate party with our Package E rental bundle! This package includes a fun and colorful bounce house that will keep kids entertained for hours. It's the perfect way to add some excitement to any backyard party or event.In addition to the bounce house, this package also includes two sturdy tables and twelve comfortable chairs. This makes it easy to set up a seating area for guests to enjoy snacks, drinks, and meals. And speaking of snacks, this package also comes with a popcorn machine! It's a great way to add a fun and interactive element to your party. Guests can watch as the popcorn pops and enjoy the delicious smell and taste of fresh popcorn.Overall, Package E is the perfect rental bundle for anyone looking to throw a memorable and fun-filled party. With a bounce house, tables, chairs, and a popcorn machine, you'll have everything you need to create an unforgettable event.