Bounce & Slide, 2 Tables, 12 Chairs & 20 x 10 Pop Up Tent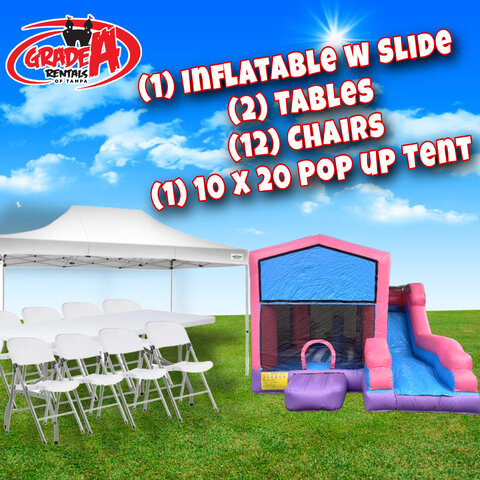 Upgrades to get a banner bounce house or any other bounce house are not permitted for specials and package deals.
Introducing our incredible Package F, the ultimate party package for those who want to take their event to the next level! This package includes a Bounce & Slide, 2 Tables, 12 Chairs, and a 20 x 10 Pop Up Tent. The Bounce & Slide is perfect for kids of all ages, providing hours of entertainment and physical activity. The vibrant colors and fun design will capture the attention of all your guests, and the slide adds an extra element of excitement. The 2 Tables and 12 Chairs are perfect for hosting meals, games, or just providing a comfortable place for guests to sit and relax. The tables are sturdy and spacious, providing ample room for food, drinks, and decorations. The chairs are comfortable and stylish, making them the perfect addition to any event. Finally, the 20 x 10 Pop Up Tent provides shade and shelter from the elements. Your guests will appreciate having a place to escape the sun or stay dry. The tent is easy to set up and take down, and its large size means it can accommodate a large number of guests. Overall, Package F is the perfect choice for those who want to create an unforgettable event. With its combination of fun, comfort, and practicality, this package is sure to impress your guests and make your event a success!