Bounce House, 2 Tables, 12 Chairs & 20 x 10 Pop Up Tent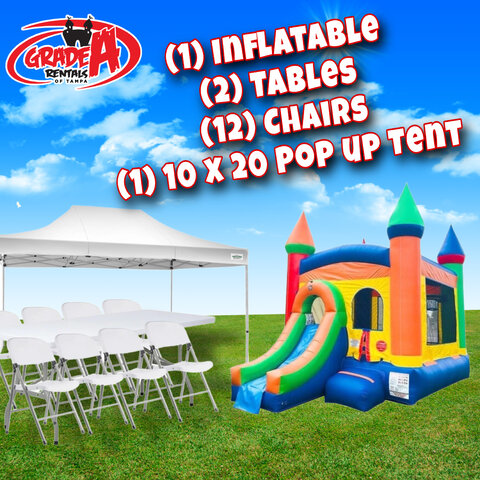 Upgrades to get a banner bounce house or any other bounce house are not permitted for specials and package deals.
Introducing our Package G, the ultimate party package for any outdoor event! This package includes a colorful and fun Bounce House that will keep kids entertained for hours, 2 sturdy tables perfect for setting up food and drinks, 12 comfortable chairs for your guests to relax in, and a spacious 20 x 10 Pop Up Tent to provide shade and shelter from the sun. With Package G, you can rest assured that your outdoor event will be a success. Whether you're hosting a birthday party, a family reunion, or a company picnic, this package has everything you need to create a fun and memorable experience for your guests. So why wait? Book Package G today and take your outdoor event to the next level!