Party & Event Rental | Tampa FL
  Bounce Houses

Finest bounce houses in town, available for parties, etc.'

These Bounce Houses are not intended for wet use; if wet at pick-up time (for reasons other than weather), you will be charged a $275 fee and placed on our "DO NOT RENT" list.
---
Please note:
The displayed rates do not include any taxes, delivery fees, or optional charges that may be added later in the checkout process.
---
Generators are not included in rental prices and must be rented separately!
Bounce Houses rentals in Tampa are the ultimate way to add excitement and energy to your next event! With a variety of sizes, themes, and designs to choose from, these inflatable structures offer hours of fun for all ages. Whether you're hosting a birthday party, school carnival, or corporate event, a bounce house rental is the perfect hassle-free way to keep your guests entertained and engaged. So why wait? Book your bounce house rental today and get ready to bounce into a world of pure fun!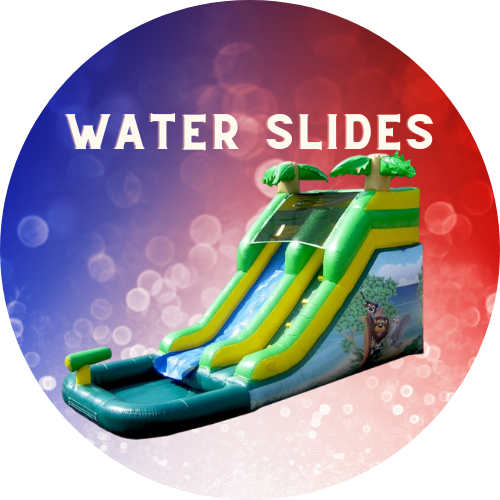 Water Slide Rental
Our water slide rentals are a great alternative to a bounce house on the hottest summer days. We offer a fun-filled day with our water slide rentals if you add one on to your party rental. Kids and adults love to cool off on one of our fantastic water slides at your Tampa, Florida party.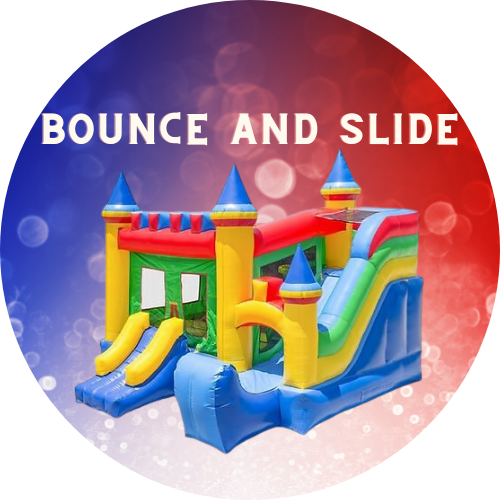 Bounce & Slide Rentals
If you can't decide between a bounce house and a slide rental why not get the best of both worlds with our bounce and slide rentals. All our bounce and slides come clean and sanitized for your safety at your next party in Tampa, Florida. Check out our great selection by clicking the link below and create everlasting memories.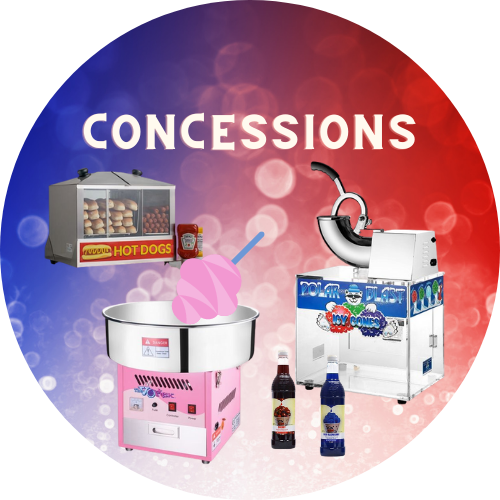 Concession Rental
Add a concession rental to your bounce house rental in Tampa, Florida to have a great snack for after the kids are done bouncing. Our delicious sno-cones are a yummy treat for all your guests at your next party. Check out all of our amazing concessions to bring a fun atmosphere to your event.


Bounce House Rentals
Bounce house rentals will take your party to the next level. Every kid loves bounce house rentals. They are fun and enjoyable for the entire family, not just the kids. We offer some of the most unique bounce house rentals in the industry. Take a look at our amazing selection and we are certain that you will agree. Our bounce house rentals arrive clean and sanitized for your protection. We take the time to inspect and clean each of them before they are put away in our storage facility. All of our bounce house rentals are delivered to your doorstep. This makes renting bounce houses and other party rentals simple. You simply need to know the date.
Go online to book or give us a call and we'll be happy to set that date up for you. We will arrive prior to your party to get everything in place before your guests arrive. All of our equipment will arrive on time and ready to go, no need to worry about that. We bring all the equipment needed to install the bounce houses in your backyard, indoors, or even the front yard. We simply ask that you provide the power outlets. All of our inflatables stay inflated by fans, these blowers will have to be on at all times in order for the inflatable to be inflated.
Inflatable carnivals set up.
Once your party is over, we will come back by and pick everything up. This can be a simple backyard party inflatable or something as amazing as a complete inflatable carnival. That's right, you can rent several of our bounce house rentals and create a carnival of your own. These carnivals are great for fundraisers, as people love to go to inflatable carnivals. While many schools and churches will sell overpriced trinkets to carnivals. We offer something that is more unique and people love. It is easy for those that are putting on the carnival as well.
Go ahead you know that getting some bounce house rentals will make your child's face light up. We work with people from all walks of life and set up both indoors and outdoors. Tampa is pretty hot at times, so having the inflatables inside with the ac on, can make them more enjoyable. You can also rent water slide inflatables from us as well. These are basically the same as bounce house rentals, but with a slide and water.
Water slides are super fun and both kids and adults love them too. Bounce house rentals are enjoyed by teens and young adults too. If you are having a bit of an older "kid" crowd, no worries, they love many of our party rental options. We work with our clients to help them select the proper rentals for the ages that they plan to entertain. We are happy to discuss with you your event and help you out.
Best Party Rentals
Remember, we do parties all the time. We work with clients to help them get the best party rentals for who they plan to come. If you are targeting younger kids then you might want just bounce house rentals. However, if you are going to have lots of different ages, then adding some other party rentals to your mix only makes sense. Take a look around and we are certain that you can find something that will work for your occasion.
Take your time to browse, but remember, they go fast. We have a nice selection and people are always having parties so be sure to book early. If your party is on a holiday weekend, not a problem, but you really need to book ahead in order to reserve your rentals. Of course, we deliver and pick up on holiday weekends and are happy to provide the same level of service that you would have on any given day. We work 7 days a week to ensure everyone has the parties they have dreamed of.